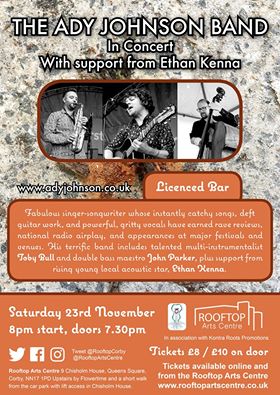 Address :
Rooftop Arts Center, 9 Chisholm House, Queens Square, Corby, Northamptonshire, NN17 1PD.
Rooftop Arts Centre Acoustic Night (Trio)
Corby, Northants
Ady will be joined by 'JP' (John Parker) on double bass, known for his work as one half of chart-topping duo Nizlopi. Long standing friend and multi-instrumentalist Toby Bull, will add some sax, trumpet and other magic to the proceedings. Support comes from local Ethan Kenna.