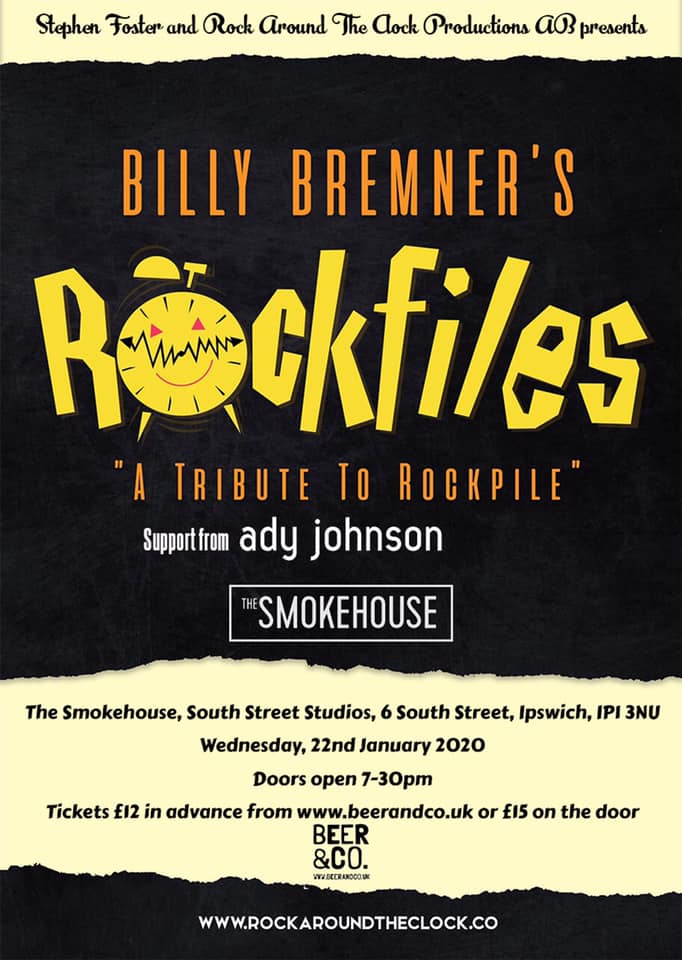 Address :
South Street Studios, 6 South Street, Ipswich, IP1 3NU
The Smokehouse ~ supporting Billy Bremner's Rockfiles
Ipswich, Suffolk
Stephen Foster and Rock Around The Clock Productions proudly present Billy Bremner's Rockfiles, 'A Tribute to Rockpile' at The Smokehouse, Ipswich on Wednesday 22nd January 2020.
Well known for playing lead guitar on many Nick Lowe and Dave Edmunds albums, Billy has also played with The Pretenders, Carlene Carter and The Coal Porters, as well as issuing four solo albums.
And now with support from Ady Johnson, Billy celebrates his most renowned body of work with the band Rockpile.
Doors Open 7.30pm at The Smokehouse, South Street Studios, Ipswich, IP1 3NU.
Get your tickets here in advance while you can for £12 or on-the-door for £15 if there are any left!
NOTE: Tickets will be emailed to the address provided on purchase. Please check your email spam folder if you cannot find them.
Register with Beer&Co to keep up-to-date with news of more events and ticket sale offers + follow us on facebook for breaking news.